RoboAlphonse is the evil counterpart of Alphonse Elric. 
RoboAlphonse

Vital statistics

Aliases
Unknown
Birthplace
Unknown
Date of Birth
Unknown
Age
Unknown
Family
The Lightning (father/creator)

RoboEdward (brother/comrade) RoboRoy (brother/comrade) RoboWinry (sister/comrade) RoboRiza (sister/comrade) Alphonse Elric (good counterpart)

Affiliations
Unknown
Species
Android
Occupation
Unknown
Rank
Unknown
Abilities
Unknown
Power Level
Unknown
Weapons
Unknown
Unique Trait
Looks like the real Alphonse wearing a honeybee costume
Goal
Unknown
First Appearance
Unknown
Voice Actor
Aaron Dismuke (FUNimation Dub)

Russell Lawrence (Saban Dub)

Seiyū
Rie Kugimiya



Powers & Abilities
Edit
As Mega RoboAlphonse (Manga & 2017 Anime) 
When transformred into his mega form, he 
has the appearance of a robot/goblin-like monster with the power of enhanced super-strength, enhanced super-speed, and enhanced laser vision.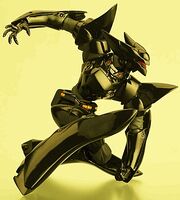 Ad blocker interference detected!
Wikia is a free-to-use site that makes money from advertising. We have a modified experience for viewers using ad blockers

Wikia is not accessible if you've made further modifications. Remove the custom ad blocker rule(s) and the page will load as expected.